As the founders of the Puppy Yoga concept and the leading Puppy Yoga club in the UK, our foremost goal is to provide the safest and most comfortable environment for our beloved furry companions who join us for a day of puppy care.
At Pets Yoga, we are unwavering in our commitment to upholding animal welfare and ethical standards, a commitment that has been integral to our ethos since 2018.
This dedication has enabled us to be the Unique Club to receive recognition from industry experts, notably through a veterinary investigation conducted for Crufts in March 2022.
Our exceptional reputation within the dog world is solidified by our dedicated team, which includes puppy trainers, animal advocates, and passionate dog enthusiasts. They adhere rigorously to stringent health and safety protocols while working with a deep affection for pets, always prioritizing their well-being.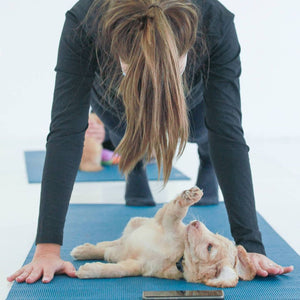 SOURCE
Our puppies join us or a day of puppy day care with their caring and responsible families, which include ethical pet owners and licensed breeders. Moreover, whenever possible, we give priority to dogs from charitable organizations or rescue groups.
At Pets Yoga, our team conducts physical visits to the homes of all our furry guests to ensure they come from loving families and reside in a nurturing environment within their homes. Families undergo interviews based on various ethical criteria. We also meet the puppies' mother and father, verifying the age of their first pregnancy and the number of pregnancies to align with pet welfare standards. We meticulously gather information regarding the puppies' veterinary check-ups and healthcare.
Certain health documents are stored in our database asevidence that all our furry guests are in good health and are content companions.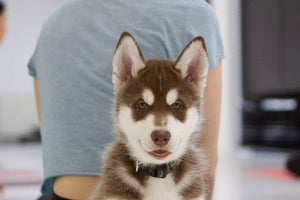 PETS WELFARE
We have built our reputation by offering a safe and nurturing environment for both puppies and participants.
BENEFITS IN THEIR TRANSITION TO A NEW LIFE : Puppies joining us are at the optimum age for socialization, typically in their final week before transitioning to their forever homes. This approach
is a sincere effort to acclimate them to a new environment, new scents, and new faces, all while providing the comfort and security of being with their siblings, ethical owners, and sometimes their mother. We understand the significance of a smooth transition when moving to a new family, and our goal is to make this process as stress-free as possible for them.
SESSIONS : Our schedule is thoughtfully
designed to provide puppies with a sense of being at home, ensuring they thoroughly enjoy their time with us. We create a relaxed and open environment
during the sessions, allowing puppies to explore and be themselves. They are free to play, cuddle, or take a nap, just as they would in the comfort of their own homes.
FOOD & WATER : In all our studios and since day 1, water bowls are readily available from the beginning of the day and are consistently refilled as needed. Puppies are provided with food during any of the four designated break times, aligning with their home schedule.
These food breaks are carefully supervised by our team of sitters, who follow strict safety procedures. We serve soft/soaked food exclusively, and each puppy eats individually to mitigate any choking risks.
SLEEP : Each puppy daycare session is meticulously organized, following expert recommendations for puppy schedules.
Puppies typically require approximately 18 hours of sleep a day, and our top priority is to ensure that the puppies and kittens who join us can fully enjoy their socialization day without any interruptions. To achieve this, we willingly invest in additional venue and staff resources, providing 3 hours and 30 minutes of dedicated nap time for the puppies and kittens. During these nap times, they have the studio all to themselves. These breaks are scheduled as follows: 9:15am to 10:00am, 11:00am to 11:45am, 12:45pm to 2:00pm, and 3:00pm to 3:45pm. You can easily verify these break times through our event schedules.
Our sessions throughout the day are divided into 5 parts: 10 minutes of cuddling, 20 minutes of yoga, 10 minutes of cuddling, 10 minutes of yoga, and 10 minutes of cuddling. We also adapt to the puppies' sleeping patterns during our sessions, strictly forbidding any disturbance to a sleeping puppy.
AGE: Puppies join us at a minimum of 8 weeks old for only one or two weekends of puppy daycare under the supervision of their caring family members.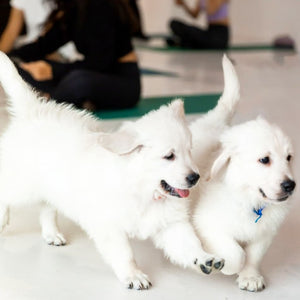 HEALTH & SAFETY
HYGIENE REGULATIONS : We strictly adhere to the Animal Welfare Act and government guidelines related to animal-related activities. Our teams are meticulously trained to ensure the utmost safety and cleanliness for our beloved puppies and kittens:
Before the arrival of the puppies and kittens, our studio is thoroughly cleaned using a parvovirucide product to create the safest environment possible for our pets.
To maintain cleanliness, all attendees and staff members are required to remove their shoes before entering the studios.
During the sessions, as the puppies are out of their pens, any waste is promptly cleaned using a pet-safe cleaning product. Our team of pet sitters ensures that no puppy is present during waste cleanup, prioritizing their comfort and safety.
Yoga mats are thoroughly cleaned with antibacterial products after each session, and both sides are cleaned at the end of the day.
After each instance of urination or defecation, every puppy is carefully cleaned with baby wipes by our team of pet sitters.
We purchase new toys and a new bed for each new litter that joins us to eliminate any safety risk between litters, and to provide a gift for each puppy or kitten when they move to their new homes.
CLUB SAFETY RULES FOR ATTENDEES: All attendees must complete a safety form before our event, which covers:
Guidelines for proper pet handling: Sit on the floor and pet below the shoulder.
All attendees should remove any jewelry/accessory that our team consider unsafe around puppies/kittens.
The importance of respecting the puppies' and kittens' nap times if necessary during the class.
Our yoga sessions feature only gentle positions close to the ground to ensure pet safety and make them feel less intimidated.
All attendees must use the provided alcohol gel to sanitize their hands during check-in and class introduction.
Furthermore, all Health & Safety rules are reiterated during the class introductions. To ensure compliance with these rules, our qualified pet sitters are present on-site for every event.
PUPPIES SUPERVISION & TRAININGS: All our events are supervised by one puppies'family home member/guardian, 2 pet sitters, one pet-specialized cleaning assistant and a yoga teacher. All our event managers are trained for first aid for pets.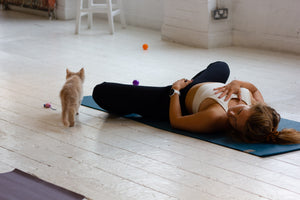 ETHICAL BREEDS
We have a deep affection for all dogs, but in alignment with our ethical standards, we do not accommodate breeds with the highest risk of health issues.
Below are some breeds you won't find at Pets Yoga:
Dachshunds: Although they are undeniably charming, this breed is unfortunately susceptible to painful and incapacitating spinal and neurological conditions that may necessitate surgical intervention. The Dachshund's
elongated body and extremely short legs increase the likelihood of developing Intervertebral Disc Disease (IVDD), which can limit their mobility.
Pugs: Pugs have been selectively bred with very short and flat faces, which can lead to severe breathing difficulties, heat sensitivity, and fainting. Brachycephalic obstructive airway syndrome (BOAS) is the most concerning disorder in Pugs, with the breed being almost 54 times more likely
to develop this condition. The RSPCA has also highlighted the risk of eye infections and eye ulcers due to Pugs' large, prominent eyes and nose folds
during their lifetime.
French Bulldogs: Since April 2022, we have made the decision not to accommodate French Bulldogs. Similar to Pugs, the selective breeding of French
Bulldogs has resulted in dogs with narrower airways and smaller nostrils,
increasing the prevalence of respiratory issues.