THE ORIGINAL PUPPY YOGA CLUB
WELCOME TO THE CUTENESS OVERLOAD CLUB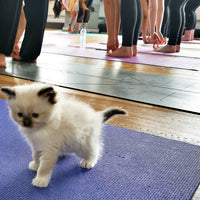 WHO ARE WE?
Pets Yoga is the original London based puppy yoga club. We are the UK puppy yoga concept founding club & first club to introduce Puppy Yoga, Kitten Yoga and Bunny Yoga in London & the UK back in 2018!
We combine yoga and pets cuddling in a stress-free environment, while giving pets the opportunity to learn to socialize with humans before they enter the outside World!
Are you Cuteness Overload ready ?
BOOK TICKETS